How to raise ELO lol and raise your skills
Little preface:
I decided to write a guide on how you can improve your chances of winning in Solo Queue and raise ELO. I play League of Legends from the 1st season and has seen a lot in the league. I do Boosting about year and a half a year. The decision to do a boosting came after I started to win a lot of games and looking up at that time, Diamond 1, I have decided that I can not just play for fun, but also to earn. The first orders were scared to take unnecessarily afraid that the salt of the client everything that is possible, but in the end nothing happened and after a year and a half I have absolutely all the positive reviews. Recently, I created this site and decided to blog and write guides on how I am doing a boost, helping you to understand the ways by raising ELO. Well, lets begin!
Where do you start?
I will share all the conditions for lifting ELO independently in paragraphs:
1. Selection of Champion
One of the main mistakes in self – Boosting is that the person is trying to play on a huge number of champions, and it did not go good. I made for myself the condition that playing ranking games on a single role I choose 1-2 character and no more. (My peak is: Mid – Annie Ori; Top – Teemo; ADC – Caitlyn, Graves; Support – Sona, Annie, Jungle – Amumu). But you have to learn how to play all the lines for the successful ELO boost. It is advisable to choose balanced characters that will not be cut up (nerfed) in the near future due to the fact that they are too strong. The pull of my characters changed only unnecessarily forest it constantly overworked and balance. I do not deny that a person can play a large number of heroes and carry alone game, but it is much better to practice your skill on a small number of heroes and win the game in solo.
2. The spirit of the game and the behavior in chat.
Always set yourself to win, even if your whole team "feed", or someone on your team left in the AFC.
Once I was very toxic and the player is constantly pointed out the error of their allies, wrote that this loss, etc. It brings a very bad result as the Allies began to debate with me, especially die, get up in the AFC, etc. My advice is that you should try to write in a chat on the case, and be careful not to blame the allies in something, the more insulting, even if they have done something wrong. Good behavior even if you select the hero plays an important role. For fun on the EUW server I wrote when choosing a hero, "Friend, yielding please Mid" and other similar positive phrase, and I still quite often inferior to the desired line, but when I wrote that I would be "feeding", "trolling" and so on if I do not give the desired line, then people just scored and conceded. If a man writes, for example, that he needed a "mid" or jg, or that he plays only on a particular line, it is better to give in to it, otherwise it may well anger teammates. Good behavior and positive attitude to the game increase your chances of winning!
3. Control ward.
Control ward plays a crucial role in the game.
The most important place to ward is: Dragon / Nashor. On the lane phase: Top: Tribush and river; Mid: situational already there need a lot of wards; Bot: Tribush, river and nice to have a ward in the enemy jungle.
At the moment, there is a great trinket, which is free and you can get it only after 9 level. He accumulates charges every 90sek and lasts indefinitely. I think this is a great item for all roles, except for support (they have a Sightstone).
So that correct placement of wards plays an important role in achieving victory.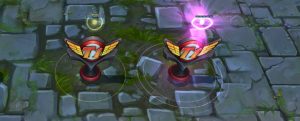 4. Key objects in the game.
Gameplay League of Legends is dependent not only on the players kills much of the killing of key objects in the game (Buffs, Drake, Baron).
Having made a good gank on bot and you are presented with an excellent opportunity to take the drake.
Control the drake plays an important role, now it does not provide gold, but gives a good buff for the whole team. The first drake gives a good boost to performance, others are also important, but the primary task to pick up the first drake, and not allow the enemy to do this. Also, if the opponents have already 4 drake, you have to do everything to make opponents have not taken the 5th drake.
Baron gives a good performance as a buff and strengthening allied minions to help you more easily shove and push down the tower at a certain line.
5. Do not make stupid mistakes.
I think the majority were games where playing with a score of 10/0/0, 12/0/0, and so on. It was a loss. If you want to win, you should not go to undue risk. Even with a perfect score will not cost you to climb to one in five. After securing several murders, far better to go to another line and help than to try to stay on the line and continue to humiliate the enemy, which has already been given much less gold.
Conclusion
Thanks for reading my guide.
I hope you have learned from it something new. Good luck in the fields of justice!